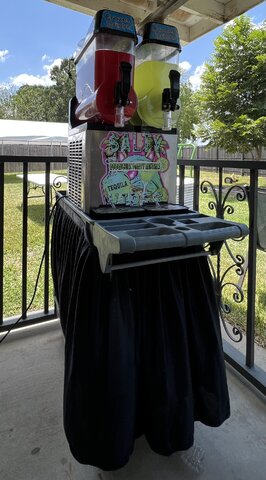 Double Margarita machine ( package )
This machine will be the life of your party! The 2 tanks allow you to have 2 different mixes going at the same time, the machine holds up to 6 gallons of mix at a time and approximatly makes about 60 (16 oz) cups. Perfect for Weddings, large parties, and corporate events. For best results and faster freezing times it is best to keep the machine indoors or if outside, not in direct sunlight.
this package includes : 50 (12 oz) cups , 50 lids , 50 straws and a 3- tier bar rim dip (
limon , salt , and chillie powder
"
tajin " NOT INCLUDED
)
2 concentrated mixes included.
overnight / late pick up fee for venues $75.00

**Note** These machines can not be brought up steps or stairs. They run on regular household 110 volt electricity, but require a dedicated 20 amp circuit.